*Click on the images for larger versions.


Chris caught these organisms in a plankton net he made. He wrote to us asking if we could help identify them. Chris guessed that one was a dinoflaggelate and the other was a mystery. Do you have a guess?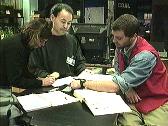 Sue Thao, Scott Haire and Karen Wilkinson trying
to identify Chris' photos at the Science Museum.