---

Parachuting Pinwheel
Here's a pinwheel that works without wind.
Print the pattern and build your own.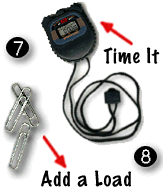 ---

Looking for interesting connections to air? See the Air cluster for experiments, books, ideas and activities.

---

What happens if you change the size of the blades? What other materials can you use for the pinwheel? Try comparing the speed of small blades versus large blades.
What Goes Around Comes Around
---
---
Science Learning Network / ©1996 Science Museum of Minnesota