Pump Fan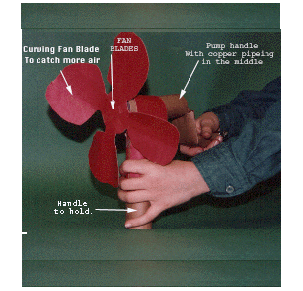 By: Joey
My machine keeps you cool. It is a fan. You pump the handle that spins the fan blades. I used cardboard, paper cardboard, and copper piping.
Troubleshooting:
I didn't have many problems. The only problem I had was making the handle. It always bent all over the place, but my dad fixed it with the copper pipe by sticking it up the handle.

I would like to stabilize it by putting in stronger cardboard. It's really floppy. It's also bent up because it isn't very sturdy.