Cat Toy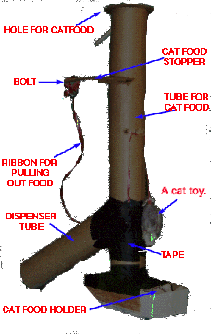 By: Mallory
MY MACHINE FEEDS CATS THEIR FOOD.

HOW DOES IT DO THAT?

.........WELL IT HAS A ROUND PIECE OF CARDBOARD ON THE TOP OF THE MACHINE. AT THE TOP OF THE MACHINE THERE IS A STICK ON THE PIECE OF CARDBOARD. IF YOU PRESS THE STICK DOWN THE CAT FOOD GOES DOWN A TUBE AND COMES OUT THE OTHER END.

MY MACHINE IS MADE OF A CARDBOARD TUBE, STICKS, TAPE, A MATCH BOX, RIBBON, AND TWO CAT TOYS.

DO YOU ASK HOW I BUILT IT?

......... WELL I TOOK ONE CARDBOARD TUBE, MADE A HOLE ,THEN STUCK ANOTHER TUBE IN THERE. THEN TAPED THE TUBES TOGETHER. NEXT I CUT A HOLE AT THE TOP OF THE MATCH BOX. THEN I STUCK THE BOTTOM TUBE INTO THE HOLE IN THE MATCH BOX.

DO YOU WANT TO KNOW HOW I PUT THE TOYS IN THERE?

WELL OK. I TURNED THE MACHINE AROUND AND GOT AN IDEA. MY IDEA WAS TO POKE HOLES INTO THE BACK, THEN PUT CAT TOYS ON A RIBBON AND STICK THE RIBBON THROUGH THE HOLES AND BACK OUT SO YOU CAN TIE IT UP.
Troubleshooting:
THE ONLY PROBLEM I HAD WAS THAT IT WOULD ALWAYS FALL OVER WHEN I TOUCHED IT. SO I PUT THE MATCH BOX ON THE MACHINE WHICH MADE MORE STURDY.

THERE ISN'T ANY WAY I WOULD CHANGE OR IMPROVE IT. I THINK IT'S REAL GOOD AND STRONG NOW.