The Bell Chime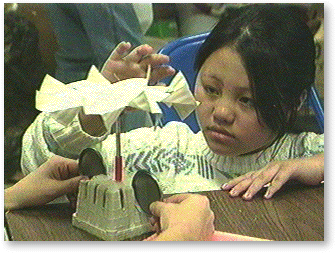 I hope you'll send me a message to tell me what you think.
---

By: Mai The fan blows the blade. Then the two bells that hanbg on the sides hit the juice can cover that aare on the top of the box.

Troubleshooting

The problem I have is to find a paper or something that was not heavy to make the blades. The wind wasn't srongf so it was hard to blow the blades. I found a stiff paper and I started to make the blades from that. It worked.

Reminds me of . . .

My machine used the idea from the Christmas Wind Chime.