Log chute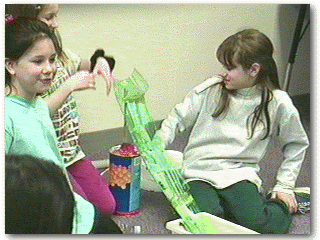 We hope you'll send us a message to tell us what you think.
---

By: Emily, Mallory & Tracy We made it out of pop bottles, bamboo sticks, cheez ball can, and lots of hot glue and cardboard. Emily would blow up a balloon which would hit the boat and it would go down the chute and land in the water.

Troubleshooting

We had trouble putting the chute together and the thing that held water because there were holes in it. Emily fixed the holes with glue. The cheese ball container was not heavy enough and it would fall over a lot. The boat kept crashing. We changed it and made a new one without people in it. The end of the chute the pop bottle kept curving in. First we used a fan but that didn't work because there was too much air. Next we used a hair dryer and it didn't work because it went too fast or too slow. Then we decided to use the balloon.

Reminds me of . . .

The Paul Bunyan Log Chute at the mall of America. We have all ridden it and we like it until you get to the big drop.