Maid's Dream Table Server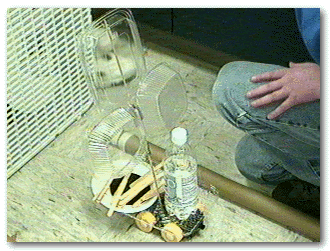 We hope you'll send us a message to tell us what you think.
---

By: Max & Geoff The wind hits the sail which sort of bounces back and propells it forward to the greedy eater at the other end of the table. It is made out of mostly plastic from plates, a broken toy and cafetria salad containers and hot glue. We used a fan for wind. The machine carried food and water to the eater.

Troubleshooting

We would make it more spread out to catch more wind. It could go farther and faster. Skinnier wheels would have made less friction. When we put the water on it it would tip over so we put a spool on it.

Reminds me of . . .

Sailboats, viking ship and a solar car.